Kinky Rabbit (Los Angeles City) Sex & Swingers Club
Address: KinkyRabbit Club, 936, S Olive St, Los Angeles, CA 90015, США
Email: [email protected]
Website: https://www.kinkyrabbitclub.com/
Facebook: https://www.facebook.com/kinkyrabbitclub/
Instagram: @kinkyrabbitclub
Twitter: @kinkyrabbitclub
Kinky Rabbit Club is an exclusive lifestyle club that hosts a collection of unique, kinky, themed events throughout the Los Angeles area. Each event takes place in a secret location which is only revealed at a select time closer to the affair.
Carefully created to transport you into a world of sexual exploration and sensual adventure, each of our opulent occasions uses a combination of music, dance, erotica, and immersive performance art to stimulate your every sense and leave a long-lasting impression.
Kinky Rabbit Club was created for like minded, curious couples and unconventional individuals who are keen to explore their fantasies, indulge their passionate whims and experience more. All while being surrounded by luxurious, comfortable, and discreet settings.
We kindly invite you to apply to join us at the Kink Rabbit Club. If you are chosen to be part of our society you will be granted access and receive invites to our future events directly from us and then be granted the ability to purchase tickets from our website.
Alina Ratuska, Founder of Kinky Rabbit Club
The driving force behind Kinky Rabbit Club's unbridled, themed events, Alina Ratuska is a creative director, event planner, designer, and stylist of Polish and German descent.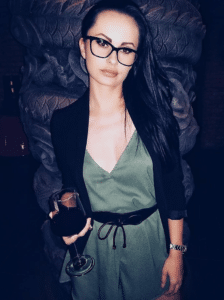 Alina's journey began designing costumes for performers in the nightlife and entertainment industry in Europe. The friendships she forged and the connections she developed during this time allowed her to expand her creative outlets to hosting a range of events across the continent.
The Spanish isle of Ibiza served as one of Alina's biggest creative influences and led to the creation of Rockachic, a fashion and entertainment brand in 2009. Hosting a number of innovatively themed events under the Rockachic banner helped Alina develop a devoted clientele and core fan base which has followed her ever since.
Alina's next opportunity was to become the creative director of SNCTM, one of the world's most renowned private members' clubs – a role in which she thrived for four glorious years.
Feeling it was time to strike out on her own, Alina established the now notorious Kinky Rabbit Club.
Alina is available for the consultation and planning of private events (contact us).
Jump right to the comments
Other local swingers parties in Los Angeles